Celebrating 25 years of Pure Encapsulations!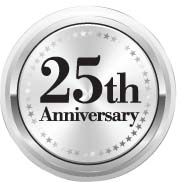 Welcome to 2016 and the 25th anniversary of
PURE ENCAPSULATIONS.
For 25 years, Pure Encapsulations have been guided by the principles of transparency, integrity and trust. They are rooted in the belief that healthcare can be transformed by positively impacting the patient care experience.
The Increased Demand for "Free-From" Products
The Pure Encapsulations hypoallergenic and "free-from" brand promise is even more relevant today than it was a quarter of a century ago. Food allergies and intolerances are on the rise at alarming rates worldwide, as are environmental and chemical sensitivities. The company pledge to remain steadfast in their commitment to hypoallergenic excellence as we all look forward to the next 25 years - allowing practitioners to help rebuild the lives of more and more patients facing these growing health trends.
STAY UPDATED!
We aim to bring you new research and info each month:
Fact #1: The latest generation of "safer" electronic cigarettes can deliver twice the amount of formaldehyde as an actual cigarette if they are set to maximum and "long puff" duration
Fact #2: Drinking a pint (500ml) of water before your main meal can help you lose weight. Of the 84 people tested, 41 of them drank water half an hour before a meal over three months and lost an aerage 9.5lb (4.3kg) – Obesity,2015;23:1785-91
NEW PRODUCT LAUNCH and PRICE REDUCTIONS FROM PURE ENCAPSULATIONS:
NEW PRODUCT - HIGH POTENCY MAGNESIUM
In response to requests for a higher potency formula, we are pleased to announce we are now stocking Viridian's High Potency Magnesium, providing magnesium in highly bioavailable citrate, oxide and biglycinate forms. Each capsule contains 300mg of total magnesium.
For full product details and pricing, please click here
NEW PRODUCT - ADENOSYL/HYDROXY B12
This is a high potency blend of the B12 precursor hydroxycobalamin together with adenosylcobalamin, an activated form of vitamin B12, making it immediately available for use in the body.
For full product details and pricing, please click here
New Products:

We are delighted to announce that we are now authorised stockists of VIRIDIAN - a leading brand of ethical supplements. The full range of products can now be purchased online at any time, as well as being available in our shop during normal business hours.
Click here to browse the range!
(please note that if you do not find the particular product you are looking for, we can obtain it for you - simply call us on 01403 730342)
Discontinued Products:
The following products are now out of stock and will no longer be available to purchase from Pure Bio: