CHRISTMAS OPENING HOURS AT PURE BIO -
Christmas Opening Hours 2016
Please note that the office will be open at the following times during the Christmas and New Year period:
Friday, 23 December - Open 9am to 5pm
Monday, 26 December - CLOSED
Tuesday, 27 December - CLOSED
Wednesday, 28 December - Open 9am to 5pm
Thursday, 29 December - Open 9am to 5pm
Friday, 30 December - Open 9am to 5pm
Monday, 2 January - CLOSED
Tuesday, 3 January - Open 9am to 5pm
Normal office hours will resume on Tuesday 3rd January 2017.
Orders will, as usual, be sent out using first class business mail, but please allow at least 3 extra working days for deliveries to reach their destination during this period.
Don't forget that orders can be placed on our website at any time during the Christmas period.
All of the staff at Pure Bio would like to take this opportunity of thanking you for your much valued custom over the year; and to extend to you and your families and staff the very warmest wishes for a happy and peaceful Christmas season.
GIFT VOUCHERS AVAILABLE FROM PURE BIO:
Did you know that we sell Gift Vouchers, which can be used against the purchase of any of our products, from supplements to soap to socks?!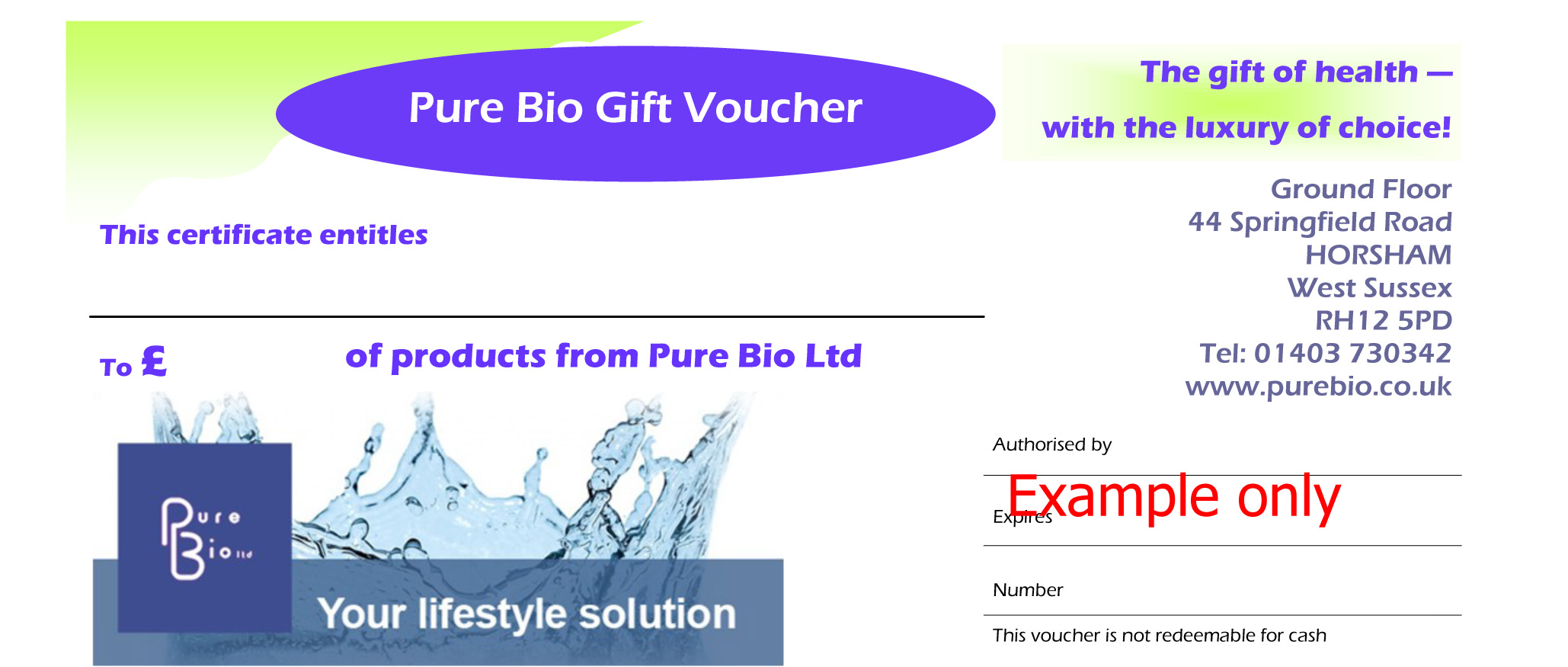 The vouchers can be purchased in denominations of £5, £10 and £20.
Why not give the gift of health, with the luxury of choice! Click here for full details.
LOOKING FOR A PURE ENCAPSULATIONS OR VIRIDIAN PRODUCT THAT YOU CAN'T FIND ON OUR WEBSITE?
Whilst we do not stock the full range of products from Pure Encapsulations and Viridian, we are happy to order in non-stock items for our customers. For Pure Encapsulations products please bear in mind that we are restricted by EU legislation as to which products can be imported.
But if you can't find what you're looking for - please call or email us and we will be happy to help!
NEW PRODUCT launched by PURE BIO:
NADH:
We are pleased to advise that we are now stocking our own brand of pure NADH -

the active coenzyme form of Vitamin B3.

It is a coenzyme involved

in the production of energy through the citric acid cycle; and

is an important electron carrier.
For full product details and pricing, please click HERE
Additional New Products:
NEW PRODUCT - ORGANIC LIQUID IRON
You asked - we responded! We are now stocking Organic Liquid Iron from Viridian - a fully-certified organic source of iron extracted from Murraya koenigii leaves. This liquid iron is both pleasant-tasting and non-constipating, and is excellent value.
For full product details and pricing, please click here
NEW PRODUCT - HIGH POTENCY MAGNESIUM
In response to requests for a higher potency formula, we are pleased to announce we are now stocking Viridian's High Potency Magnesium, providing magnesium in highly bioavailable citrate, oxide and biglycinate forms. Each capsule contains 300mg of total magnesium.
For full product details and pricing, please click here
NEW PRODUCT - ADENOSYL/HYDROXY B12
This is a high potency blend of the B12 precursor hydroxycobalamin together with adenosylcobalamin, an activated form of vitamin B12, making it immediately available for use in the body.
For full product details and pricing, please click here

We are authorised stockists of VIRIDIAN - a leading brand of ethical supplements. The full range of products can now be purchased online at any time, as well as being available in our shop during normal business hours.
Click here to browse the range!
(please note that if you do not find the particular product you are looking for, we can obtain it for you - simply call us on 01403 730342)
Discontinued Products:
The following products are now out of stock and will no longer be available to purchase from Pure Bio: