UPCOMING SEMINARS IN 2017:
1) The Core Fundamentals of Applied Kinesiology - a TWO WEEKEND accredited Course of foundational material approved by the International College of Applied Kinesiology—ICAK
Running February / March 2017
This course is an exciting new opportunity to learn the absolute fundamentals of Applied Kinesiology (AK), focusing on muscle testing skills and a handful of techniques that will allow you to integrate AK quickly and easily into your existing practice.
Click here for full details
(please note that these courses are only open to practitioners with a minimum 3 year undergraduate degree in a medically oriented profession e.g. medical doctor, dentist, chiropractor, osteopath, physiotherapist, etc).
---
2) Understanding & Using your Pure Bio Test Kit
We are delighted to announce that, due to recurrent demand, Tracy S Gates D.O., DIBAK will be presenting this valuable seminar, specifically designed to help all practitioners using nutrition and herbal products in their practice.
Do you have products in your test kits that you regularly skip over because you don't know what they are for, or even what they are? This seminar will help you overcome this limitation!
DATE: 8/9 April 2017
For full details please click here to see the flyer. If you require any further details, please contact us - 01403 730342 or info@purebio.co.uk
---
3) Inflammation - the Good, the Bad and the Ugly (part 2)
We are excited to welcome back Dr Joseph Shafer, DC, DIBAK for part 2 of this innovative guide to using the Alfa Omega range of ultra-dilute aqueous solutions.
This weekend will move from 'general' to 'specific' immune system and inflammatory response patterns and challenge protocols.
Please note: Prior attendance at the first weekend course is NOT a prerequisite for attending this second seminar.
DATE: 27/28 May 2017
For full details and a booking form please click here. If you require any further details, please contact us - 01403 730342 or info@purebio.co.uk
---
GIFT VOUCHERS AVAILABLE FROM PURE BIO:
Did you know that we sell Gift Vouchers, which can be used against the purchase of any of our products, from supplements to soap to socks?!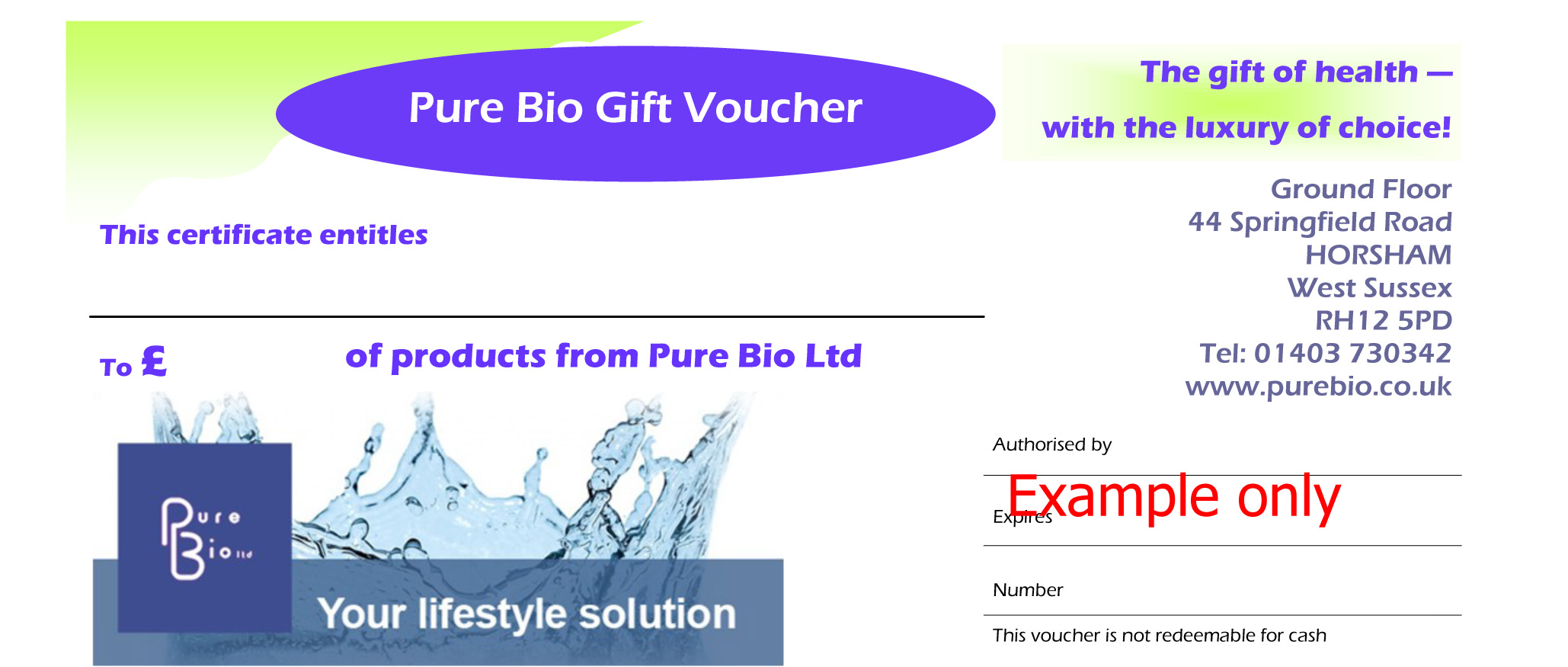 The vouchers can be purchased in denominations of £5, £10 and £20.
Why not give the gift of health, with the luxury of choice! Click here for full details.
---
LOOKING FOR A PURE ENCAPSULATIONS OR VIRIDIAN PRODUCT THAT YOU CAN'T FIND ON OUR WEBSITE?
Whilst we do not stock the full range of products from Pure Encapsulations and Viridian, we are happy to order in non-stock items for our customers. For Pure Encapsulations products please bear in mind that we are restricted by EU legislation as to which products can be imported.
But if you can't find what you're looking for - please call or email us and we will be happy to help!
NEW PRODUCT launched by PURE BIO:
NADH:
We are pleased to advise that we are now stocking our own brand of pure NADH -

the active coenzyme form of Vitamin B3.

It is a coenzyme involved

in the production of energy through the citric acid cycle; and

is an important electron carrier.
For full product details and pricing, please click HERE
---
Additional New Products:
NEW PRODUCT - ORGANIC LIQUID IRON
You asked - we responded! We are now stocking Organic Liquid Iron from Viridian - a fully-certified organic source of iron extracted from Murraya koenigii leaves. This liquid iron is both pleasant-tasting and non-constipating, and is excellent value.
For full product details and pricing, please click here
---
NEW PRODUCT - HIGH POTENCY MAGNESIUM
In response to requests for a higher potency formula, we are pleased to announce we are now stocking Viridian's High Potency Magnesium, providing magnesium in highly bioavailable citrate, oxide and biglycinate forms. Each capsule contains 300mg of total magnesium.
For full product details and pricing, please click here
---
NEW PRODUCT - ADENOSYL/HYDROXY B12
This is a high potency blend of the B12 precursor hydroxycobalamin together with adenosylcobalamin, an activated form of vitamin B12, making it immediately available for use in the body.
For full product details and pricing, please click here

We are authorised stockists of VIRIDIAN - a leading brand of ethical supplements. The full range of products can now be purchased online at any time, as well as being available in our shop during normal business hours.
Click here to browse the range!
(please note that if you do not find the particular product you are looking for, we can obtain it for you - simply call us on 01403 730342)
---
Discontinued Products
The following products are now out of stock and will no longer be available to purchase from Pure Bio: