---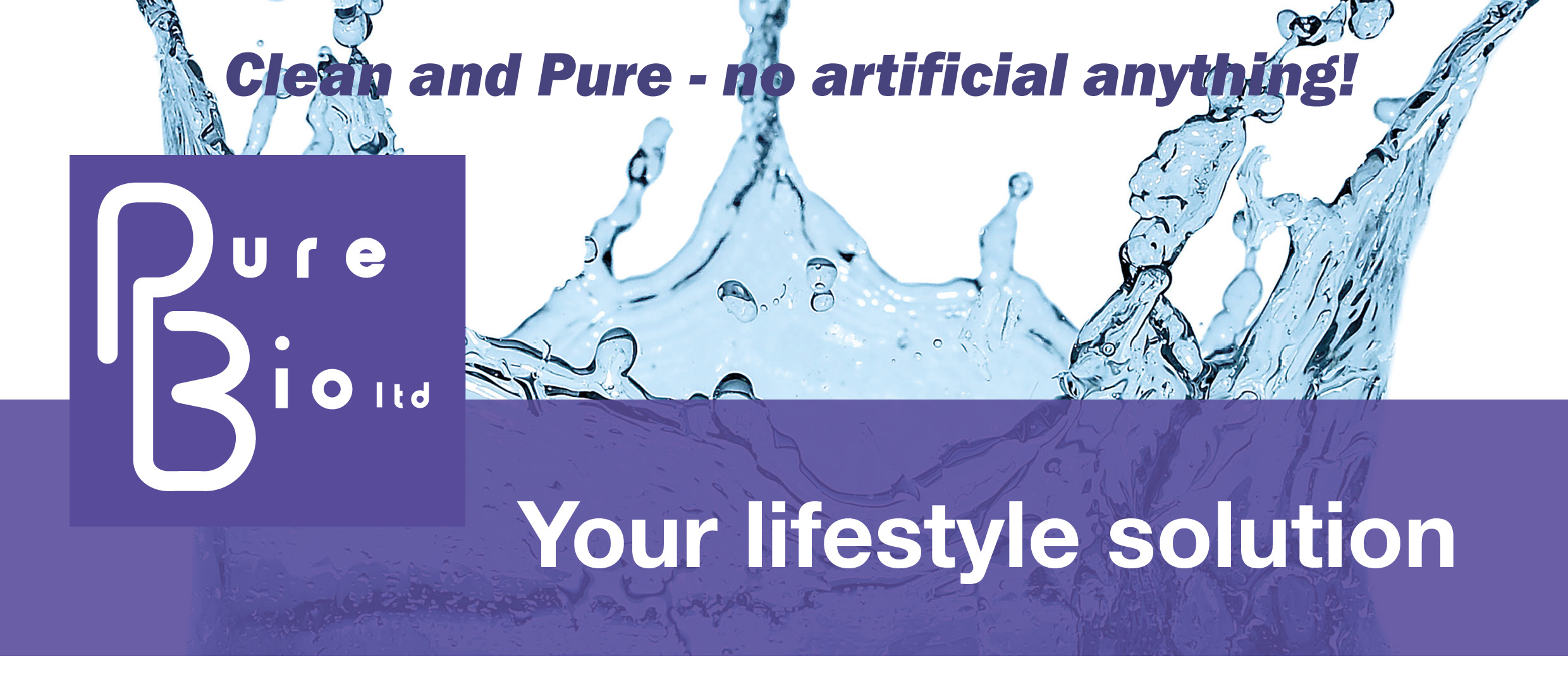 ---
WHAT OUR CUSTOMERS SAY ABOUT PURE BIO:
"I just wanted to contact you to say thank you so much for your fantastic customer service. It's so refreshing to hear a friendly and polite voice on the phone and nothing is ever too much hassle! The delivery is efficient and staff really helpful. In these days where everything is so fast and furious and technology based, often customer service is forgotten. So I just wanted to say thank you for what you do so well! Keep doing what you are doing!" LY
We are always grateful to hear from our customers about our products and services, as we are constantly striving to optimise your experience with us!
If you would like to leave feedback, please click HERE
---
UPCOMING COURSES SPONSORED BY PURE BIO:
ICAK-UK presents:
The *RARELY TAUGHT* Core Fundamentals of Applied Kinesiology - a TWO WEEKEND accredited Course of core foundational material approved by the International College of Applied Kinesiology—ICAK
Running January & February 2023
This course is an exciting new opportunity to learn the absolute fundamentals of Applied Kinesiology (AK). The course is specifically designed to be both a stand-alone course, or to feed into the newly formatted five weekend course which will commence in October 2023.
The course will allow you to integrate AK easily and progressively into your existing practice.
Click here for full details and to download an application form
(please note that this course is only open to practitioners with a minimum 3 year undergraduate degree in a medically oriented profession e.g. medical doctor, dentist, chiropractor, osteopath, physiotherapist etc).
---
NEW PRODUCTS LAUNCHED BY PURE BIO!
1) Inositol Powder (as myo-inositol) by Pure Encapsulations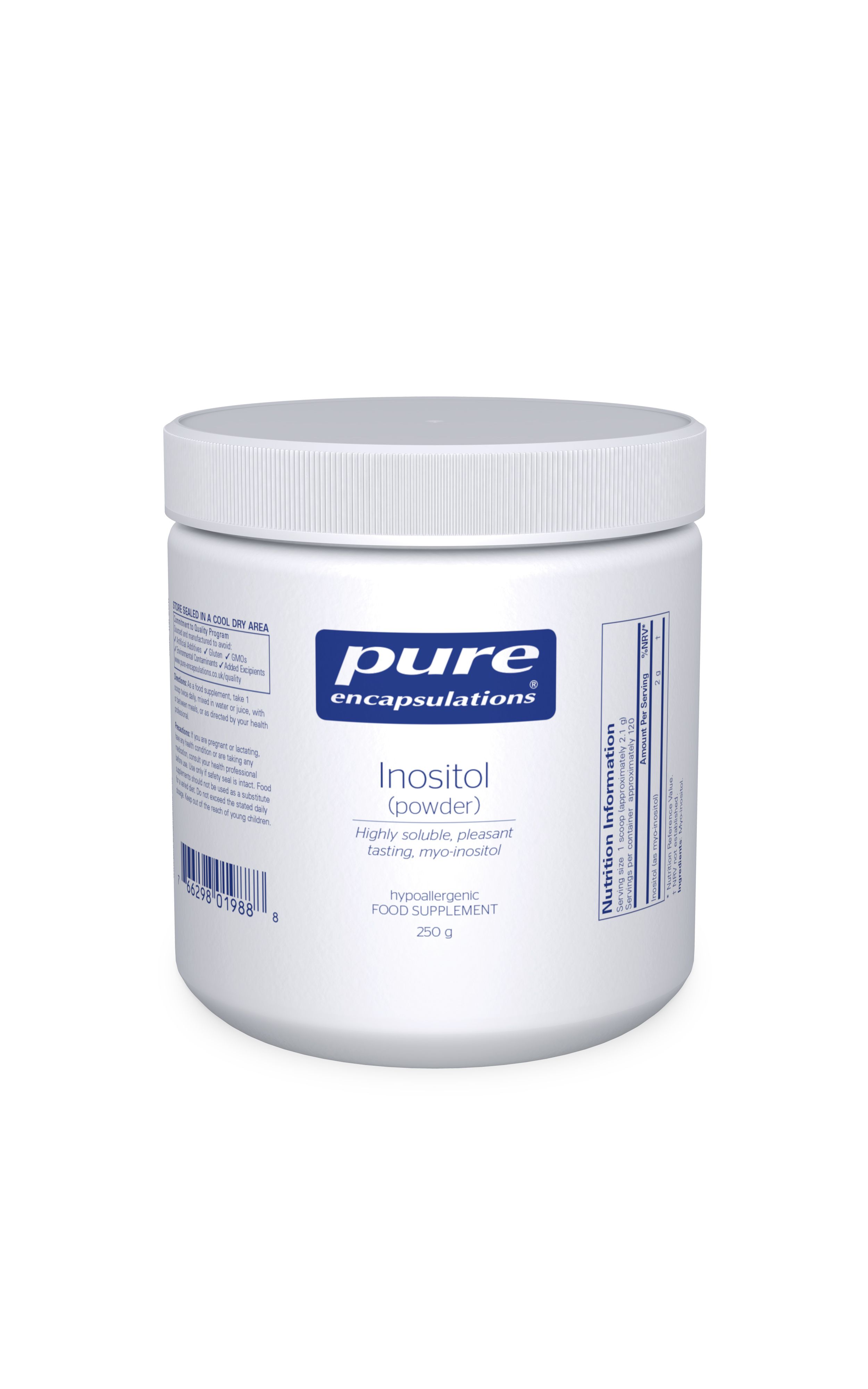 We are pleased to announce this new product from Pure Encapsulations.
Inositol is a component of the B-complex family. Myo-inositol plays an important role in cell membrane formation and supports serotonin, norepinephrine and cholinergic receptor function.
Myo-inositol is a key factor involved in insulin signalling and is an immediate precursor to another typr of inositol which plays an important role in mediating the actions of insulin. Low levels of myo-inositol have been observed in individuals with impaired insulin sensitivity and PCOS.
This product is free from wheat and gluten, dairy and soy. It is GMO free and suitable for vegetarians and vegans.
2) Mineral 650A by Pure Encapsulations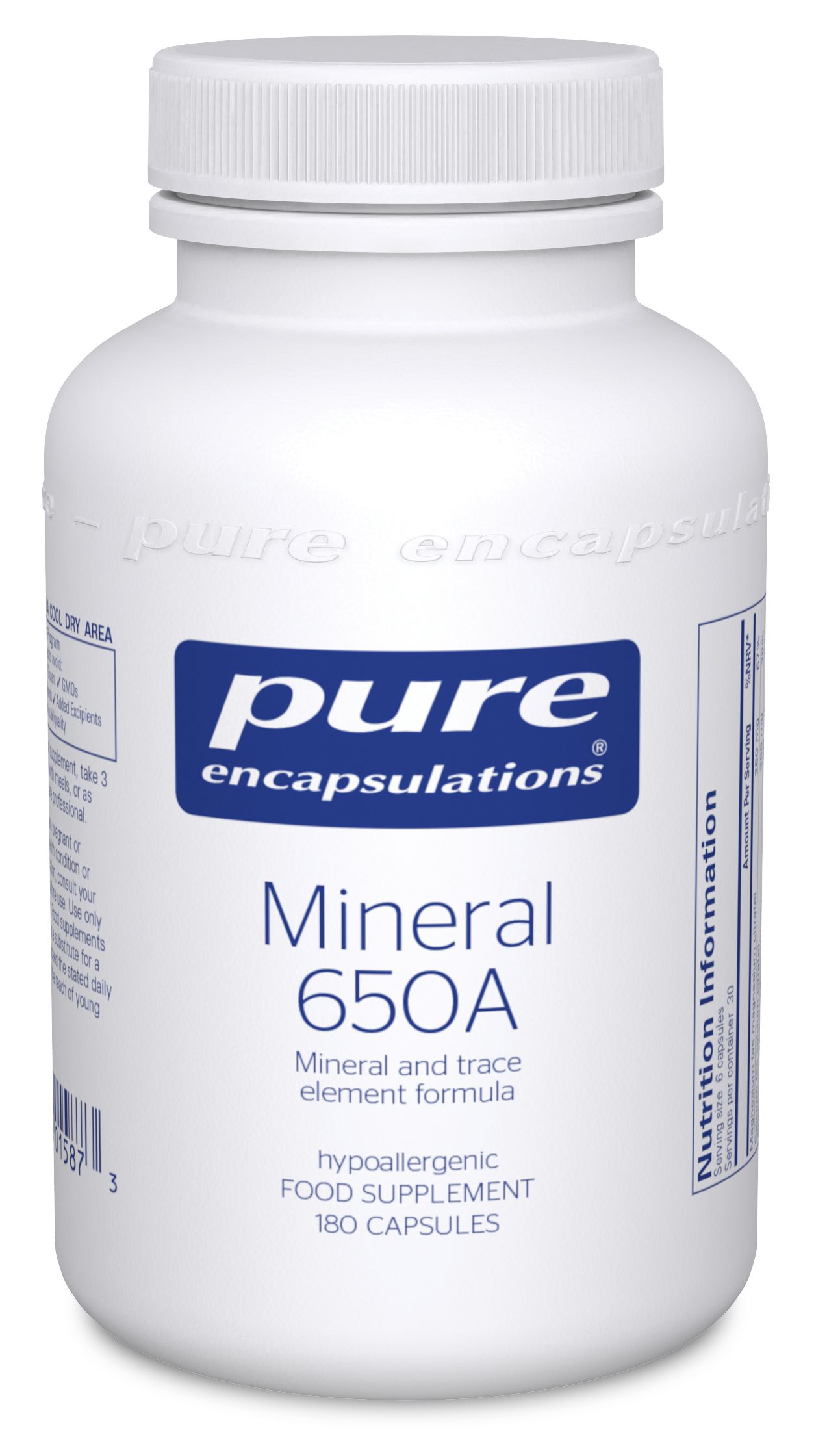 Mineral 650A is a highly bioavailable combination of essential minerals and trace elements essential to support optimal nutritional intake.
This product is free from wheat and gluten, dairy and soy. It is GMO free

and suitable for vegetarians and vegans.
3) Vitamin B12 (Adenosyl/Methyl) Liquid by Viridian

Naturally red, Viridian's Liquid B12 is formulated in a base of glycerine (from coconuts) for easy absorption and contains natural orange oil for a pleasant flavour. This vegan liquid formulation is made using a natural fermentation process and includes both Methyl and Adenosylcobalamin. These 2 different forms are at varying stages of metabolism and are required and used for different processes in the body.
This product is free from palm oil and GMO ingredients and suitable for vegetarians and vegans.
For full details and to order, click
HERE
---
4) Epi-Integrity Powder by Pure Encapsulations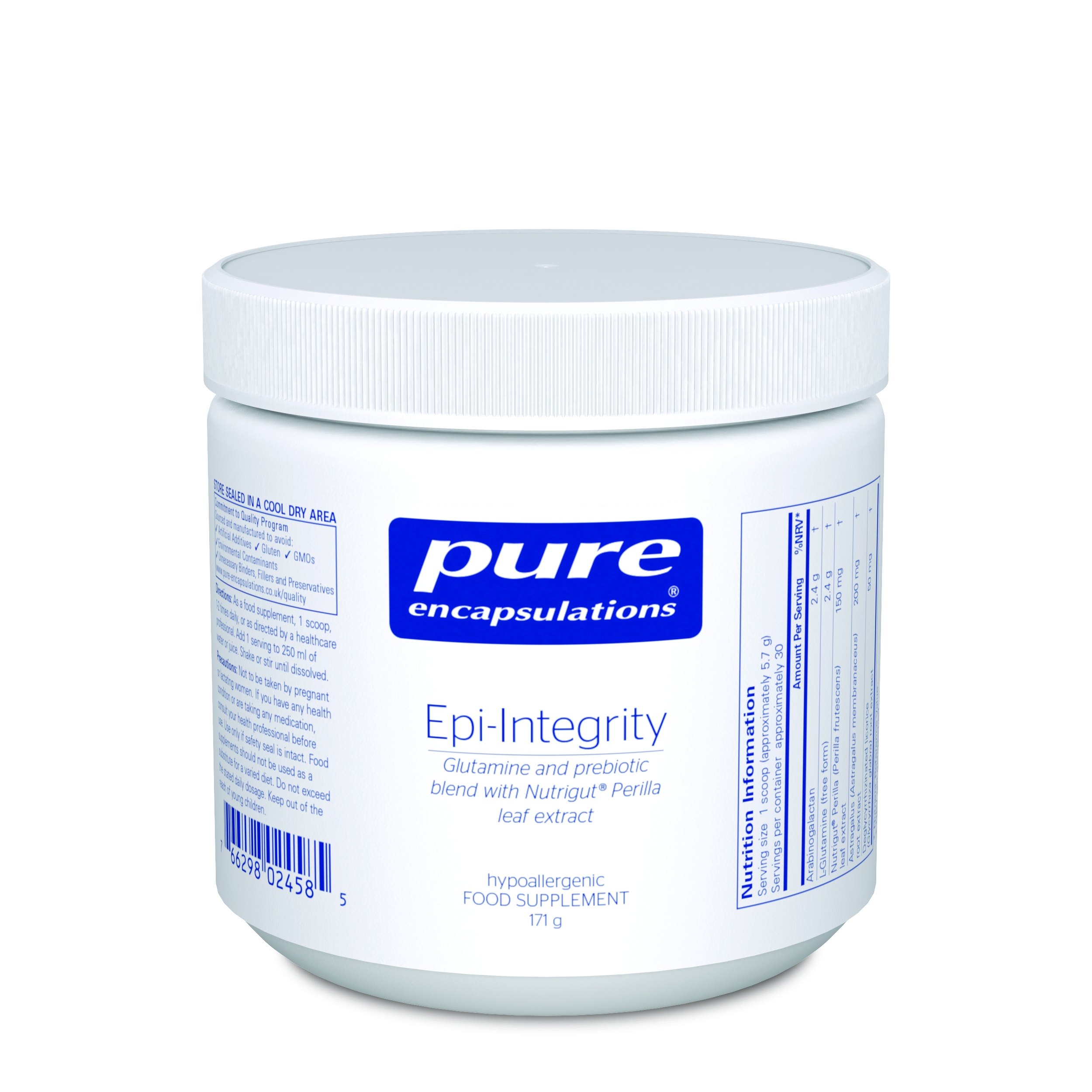 Epi-Integrity provides a unique broad-spectrum combination of glutamine, prebiotics and targeted botanicals.
The product features Nutrigut® Perilla (Perilla frutescens) leaf extract, which is a good source of polyunsaturated fatty acids (PUFAs) and also contains different antioxidant polyphenols.
Arabinogalactan resists digestion in the stomach and small intestine. This allows it to reach the large intestine, where it serves as a prebiotic fibre for beneficial gut bacteria.
Epi-Integrity also contains astragalus and deglycyrrhizinated liquorice (DGL) extracts.
This product is free of wheat and gluten, dairy and soy, is GMO free and suitable for vegetarians and vegans.
For full details and to order, click
HERE
---
5) DGL Plus by Pure Encapsulations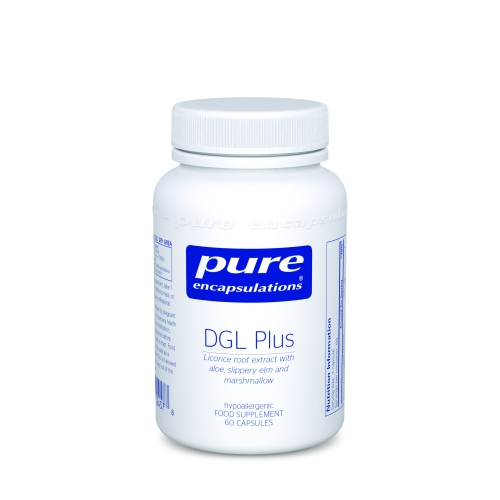 DGL Plus provides 300mg of deglycyrrhizinated licorice (DGL) root extract in each vegetarian capsule.
DGL is licorice that has had the majority of its glycyrrhizin removed, which can cause elevations in blood pressure over a period of time. Hence, DGL is believed to be safer for long-term use and has less interactions with medical conditions or medications than licorice extract.
This product is also combined with aloe inner leaf extract, along with slippery elm and marshmallow.
This product is
free from wheat, gluten, dairy and soy, is GMO free and suitable for vegetarians and vegans.
For full details and to order, click HERE
---
6) Silica (from Bamboo Extract) by Pure Bio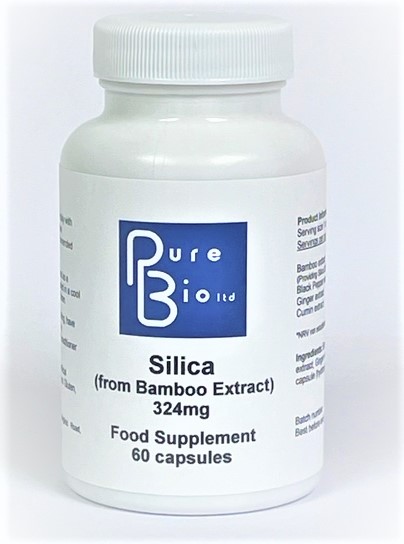 Silica is found in compounds called glycosaminoglycans, which are components of structural tissues such as arteries, tendons, skin, bones and cartilage. It also supports the integrity of hair and nails.
Pure Bio's Silica is an entirely clean source of natural silica extracted from bamboo gum. Bamboo gum contains over 90% organic silica, thus providing a very high strength product.
This product is free of gluten, lactose, soy and dairy; and is suitable for vegetarians and vegans.
For full details and to order, click HERE
---
7) Colostrum with Proflora by Pure Bio
Pure Bio's Colostrum with Proflora is a blend of extremely high quality bovine colostrum, together with Lactobacillus acidophilus and Bifidobacterium.
Colostrum is a naturally high source of LACTOFERRIN containing around 7 times more than is found in milk; and is designed to naturally build the gastrointestinal and immune system.
The colostrum is harvested from European grass-fed A2 cows and has a guaranteed 48% IgG content.
---
GIFT VOUCHERS AVAILABLE FROM PURE BIO:
Did you know that we sell Gift Vouchers, which can be used against the purchase of any of our products, from supplements to soap to socks?!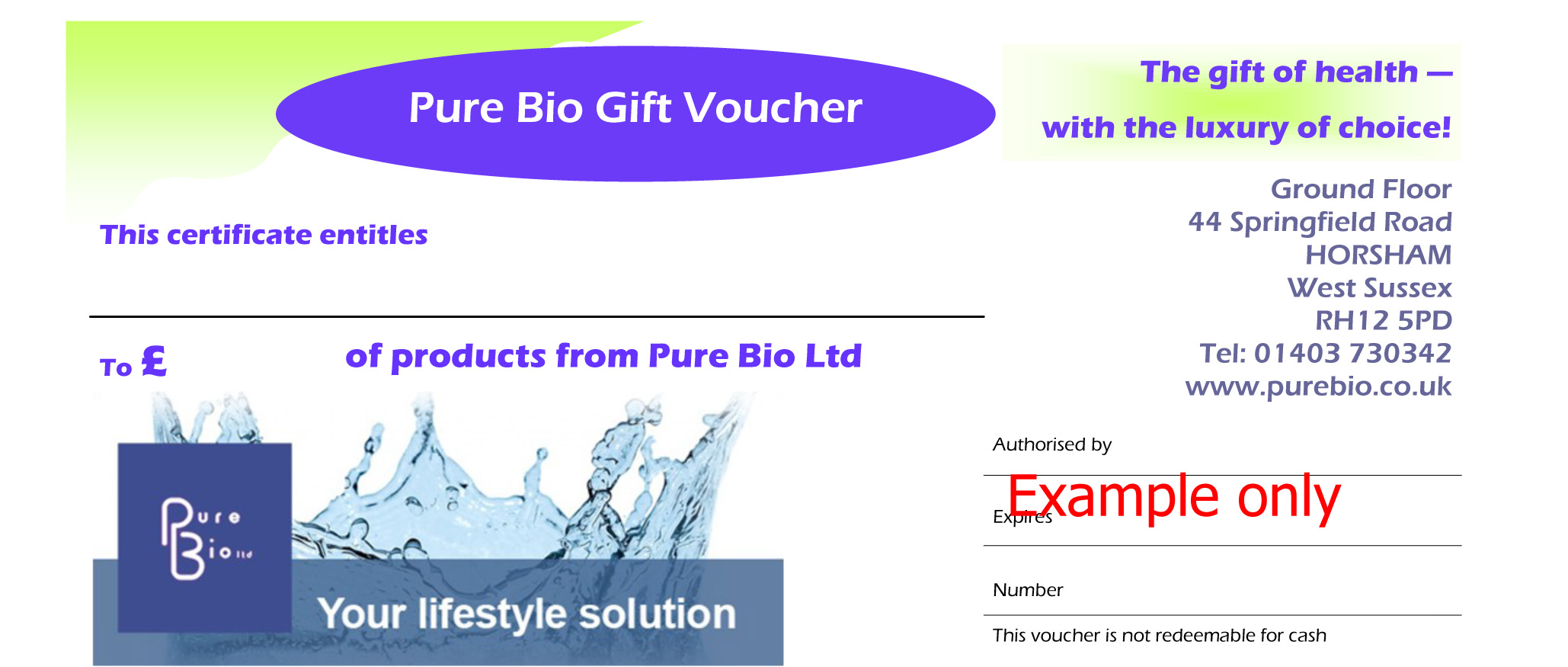 The vouchers can be purchased in denominations of £5, £10 and £20.
Why not give the gift of health, with the luxury of choice! Click here for full details.
---
WE HAVE SWITCHED TO BIODEGRADABLE PACKAGING
As part of our commitment to environmental sustainability, since November 2019 we have switched to a paper bubble wrap alternative within all of our packaging. It is produced from 100% recycled paper and is also 100% recyclable. For full details click here
---
__________________________________________________

We are authorised stockists of VIRIDIAN - a leading brand of ethical supplements. A comprehensive range of products can now be purchased online at any time, as well as being available in our shop during normal business hours.
Click HERE to browse the range!
LOOKING FOR A VIRIDIAN PRODUCT THAT YOU CAN'T FIND ON OUR WEBSITE?
Whilst we do not stock the full range of products from Viridian, we are happy to order in non-stock items for our customers.
So if you can't find what you're looking for - please call or email us and we will be happy to help!
---