---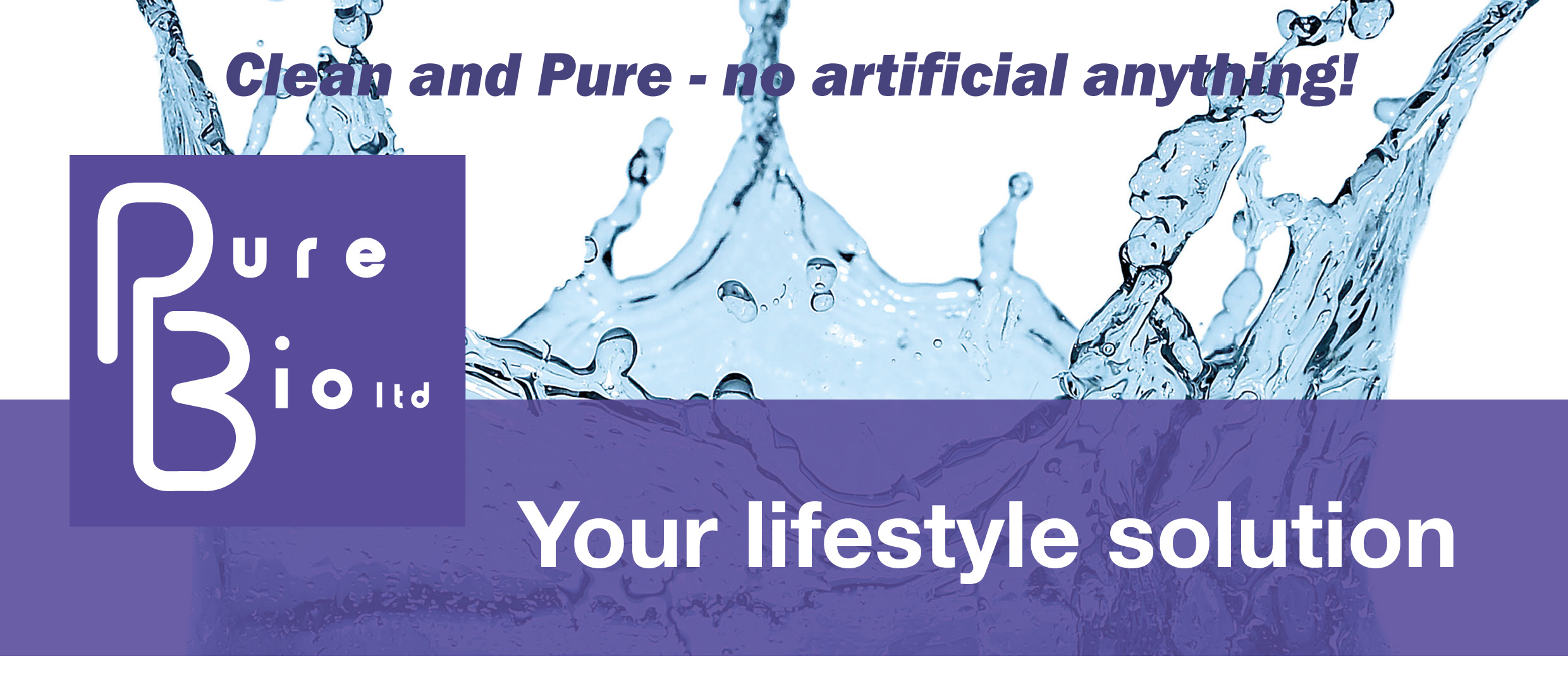 We are aware that Royal Mail are having difficulties and delay in delivering 1st class post. Therefore, we strongly advise using Tracked 24 or Special Delivery post for your orders
---
PURE BIO is the Proud Winner of:
the Southern Enterprise Awards 'Best Nationwide Hypoallergenic Nutritional Supplements Distributor 2023'.
We are so proud to have achieved this accolade for the second year running in recognition of our success as a business, which is committed to supplying only 100% pure quality products and to providing outstanding customer service to our much-valued practitioners and customers.
For full details please click here
---
WHAT OUR CUSTOMERS SAY ABOUT PURE BIO:
"I have never spoken to such lovely ladies, they are so uplifting and helpful. They made my order a pleasure. They explained and answered all my questions with ease. I buy from Pure Bio because their products are pure - no nasties added. Fantastic company for excellent service and products. 5 Stars - make it 10!" KE, Oct 23
We are always grateful to hear from our customers about our products and services, as we are constantly striving to optimise your experience with us!
If you would like to leave feedback, please click HERE
---
NEW PRODUCTS LAUNCHED BY PURE BIO!
1) Monolaurin by Pure Bio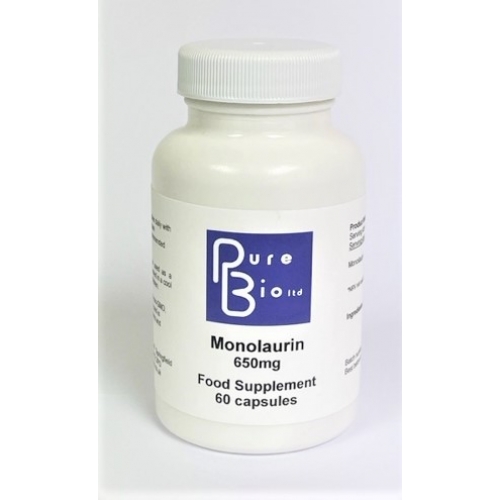 We are pleased to announce the launch of a new Pure Bio product, Monolaurin.
Monolaurin is derived from lauric acid and glycerin, and is a byproduct of coconut fat. Lauric acid also occurs naturally in breast milk.

Monolaurin has been shown in research to treat Candida albicans infections, whilst also controlling the pro-inflammatory response of the body to the fungus. Several species of ringworm and the parasite Giardia lamblia may also be inactivated or destroyed by monolaurin.
GMO-free; free from dairy, soya and gluten; and suitable for vegetarians and vegans.
2) Turkey Tail Mushroom by Pure Bio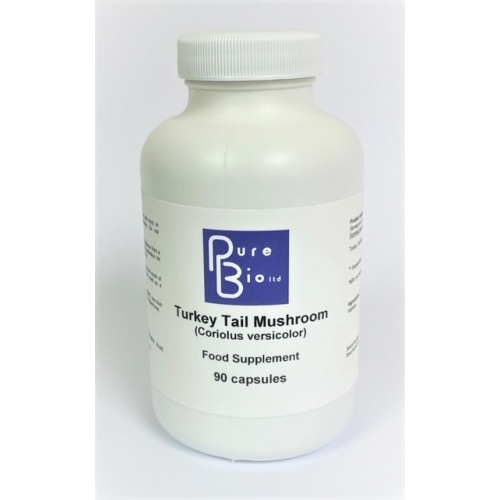 Turkey Tail Mushroom (Coriolus versicolor) is full of phenol and flavonoid antioxidants which are known to support the immune system by reducing inflammation. It also contains the polysaccharopeptides (protein-bound carbohydrates) Krestin (PSK) and Polysaccharide Peptide (PSP), which have a direct impact on immune cells in the body.
Turkey Tail also contains natural prebiotics, which help to maintain a healthy gut flora.
GMO-free; free from dairy, soya and gluten; and suitable for vegetarians and vegans.
3) Andrographis Complex by Viridian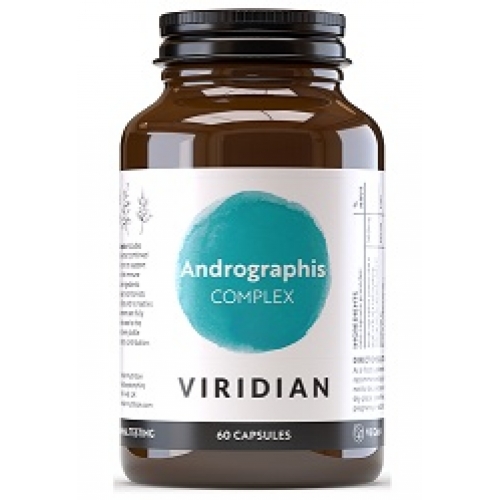 Andrographis Complex includes standardised Andrographis leaf extract, which can help ease upper respiratory tract infections. It also contains vitamin C and Zinc which both support normal function of the immune system.
It is made from whole leaf extract at a 25:1 ratio and standardised to 10% andrographolides (the key active ingredient)
GMO-free; free from dairy, soya and gluten; and suitable for vegetarians and vegans.
4) Organic Prebio Fibre Powder by Viridian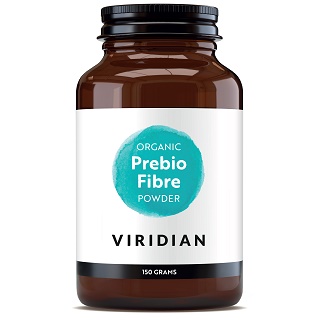 Organic Prebio Fibre Powder - a blend of baobab pulp and acacia resin, both sustainably sourced from Africa - is a soluble fibre is a low FODMAP prebiotic fibre which can travel to the small and large intestine, where it helps support friendly bacteria and also increases akkermansia levels. It contains 100% active ingredients.
GMO-free; free from dairy, soya and gluten; and suitable for vegetarians and vegans.
5) Organic Mushroom Immune by Pure Bio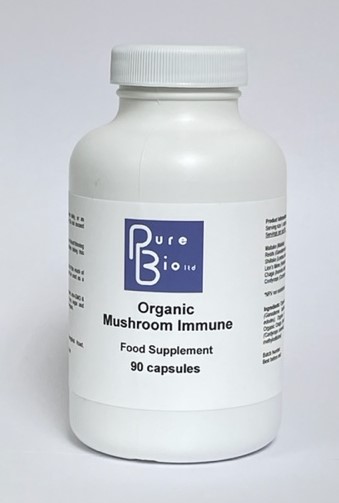 Pure Bio's Organic Mushroom Immune is a synergistic blend of six different organic mushrooms: shiitake ('the elixir of life'), maitake ('the king of the mushrooms'), reishi ('the mushroom of immortality'), chaga, cordyceps and lion's mane.
The mushrooms are rich in beta-glucan polysaccharides, which have a supportive effect on the immune system.
GIFT VOUCHERS AVAILABLE FROM PURE BIO:
Did you know that we sell Gift Vouchers, which can be used against the purchase of any of our products, from supplements to soap to socks?!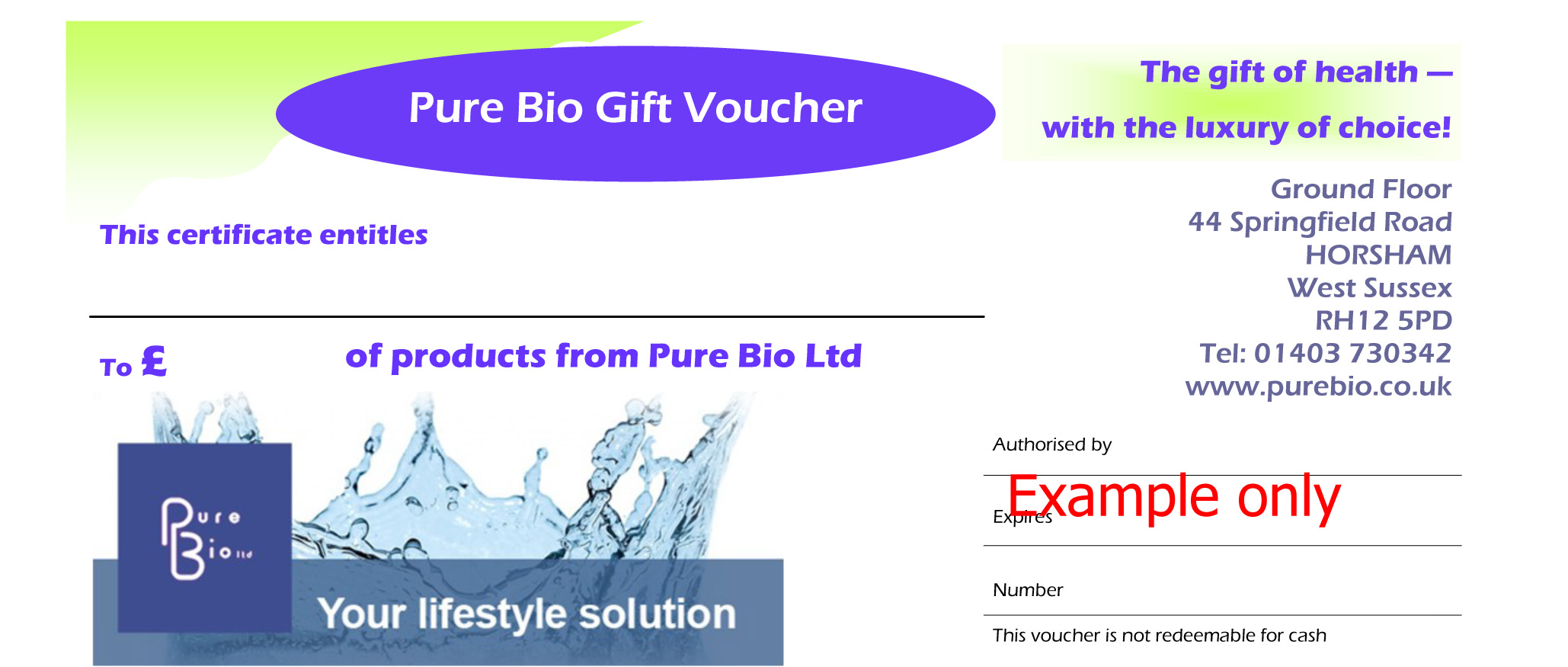 The vouchers can be purchased in denominations of £5, £10 and £20.
Why not give the gift of health, with the luxury of choice! Click here for full details.
---
WE HAVE SWITCHED TO BIODEGRADABLE PACKAGING
As part of our commitment to environmental sustainability, since November 2019 we have switched to a paper bubble wrap alternative within all of our packaging. It is produced from 100% recycled paper and is also 100% recyclable. For full details click here
---
__________________________________________________

We are authorised stockists of VIRIDIAN - a leading brand of ethical supplements. A comprehensive range of products can now be purchased online at any time, as well as being available in our shop during normal business hours.
Click HERE to browse the range!
LOOKING FOR A VIRIDIAN PRODUCT THAT YOU CAN'T FIND ON OUR WEBSITE?
Whilst we do not stock the full range of products from Viridian, we are happy to order in non-stock items for our customers.
So if you can't find what you're looking for - please call or email us and we will be happy to help!
---