---
WHAT OUR CUSTOMERS SAY ABOUT PURE BIO:
"I just wanted to contact you to say thank you so much for your fantastic customer service. It's so refreshing to hear a friendly and polite voice on the phone and nothing is ever too much hassle! The delivery is efficient and staff really helpful. In these days where everything is so fast and furious and technology based, often customer service is forgotten. So I just wanted to say thank you for what you do so well! Keep doing what you are doing!" LY
We are always grateful to hear from our customers about our products and services, as we are constantly striving to optimise your experience with us!
If you would like to leave feedback, please click HERE
---
WE ARE SWITCHING TO BIODEGRADABLE PACKAGING
As part of our commitment to environmental sustainability, from November 2019 we are switching to a paper bubble wrap alternative within all of our packaging. It is produced from 100% recycled paper and is also 100% recyclable. For full details please click HERE
---
NEW PRODUCTS LAUNCHED BY PURE BIO!
1) GLUCOSAMINE CHONDROITIN & MSM by Pure Bio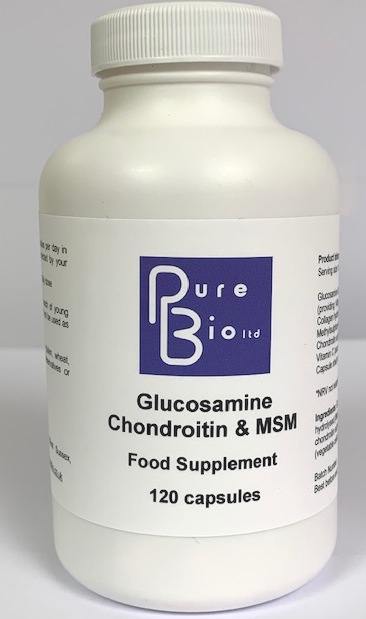 Pure Bio Glucosamine Chondroitin & MSM is a broad spectrum supplement providing key nutrients involved in joint and connective tissue integrity.
As with all Pure Bio products, it is GMO free and free from dairy, wheat grain, gluten, added sugar and soya; and contains no additives or excipients.
For full details and to order, click
HERE
2) COLLAGEN (JOINT & SKIN) by Pure Bio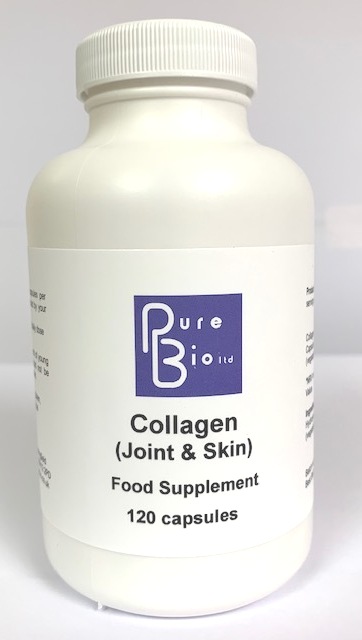 Collagen is a complex structural protein that is found within the fibrous tissues throughout the body, particularly tendons, ligaments, cartilage, bone and skin
Pure Bio's Collagen (Joint & Skin) is extracted from hydrolysed fish sources. In hydrolysed collagen the collagen bonds have been broken, which leaves the essential amino acids intact and ready for optimal absorption and digestion.
For full details and to order, click HERE
3) ORGANIC MUSHROOM GOLD by Pukka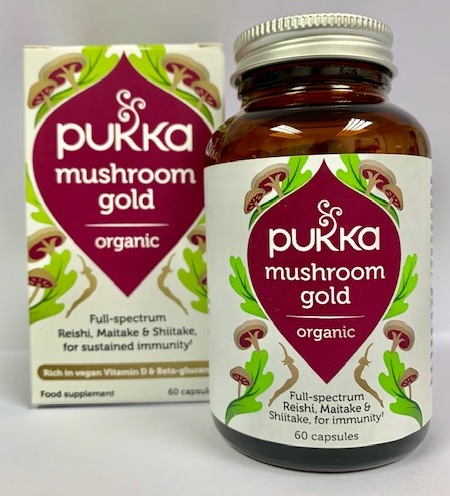 Pukka's Organic Mushroom Gold is based on three edible mushrooms - organic Maitake, Reishi and Shiitake. Each capsule delivers 250mg of concentrated polysaccharides and over 40mg of beta-glucans.
This broad spectrum formula is suitable for vegetarians and vegans, is 100% organic and GMO free; and is free from dairy, wheat grain, gluten, added sugar and soya.
For full details and to order, click HERE
4) KRILL OIL by Pure Bio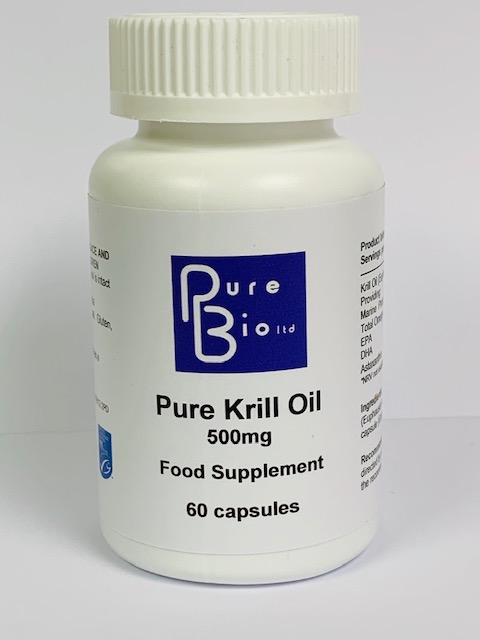 Pure Bio's Krill Oil capsules are derived from Antarctic krill - a zooplankton crustacean offering a naturally unique balance of omega-3 and omega-6 fatty acids, phospholipids and antioxidants. Krill oil contains an omega-phospholipid complex that is rich in EPA and DHA. The phospholipid content of the oil closely resembles that of human brain phospholipids. As a result this complex easily crosses the blood brain barrier.
The capsule also contains astaxanthin - a non-toxic carotenoid with antioxidant properties
For full details and to order, click HERE
5) EPA/DHA VEGAN by Pure Bio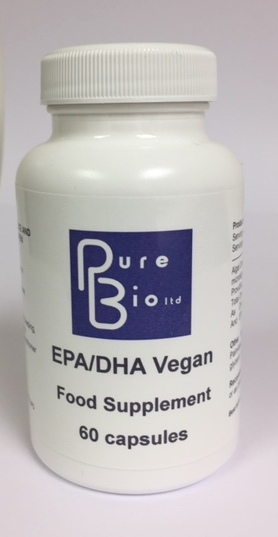 Pure Bio vegan EPA/DHA is a high potency omega-3 oil sourced from a pure, environmentally friendly and non-GMO form of the marine microalgae, Schizochytrium sp.
For full details and to order, click HERE
6) ACTIVATED CHARCOAL by Pure Bio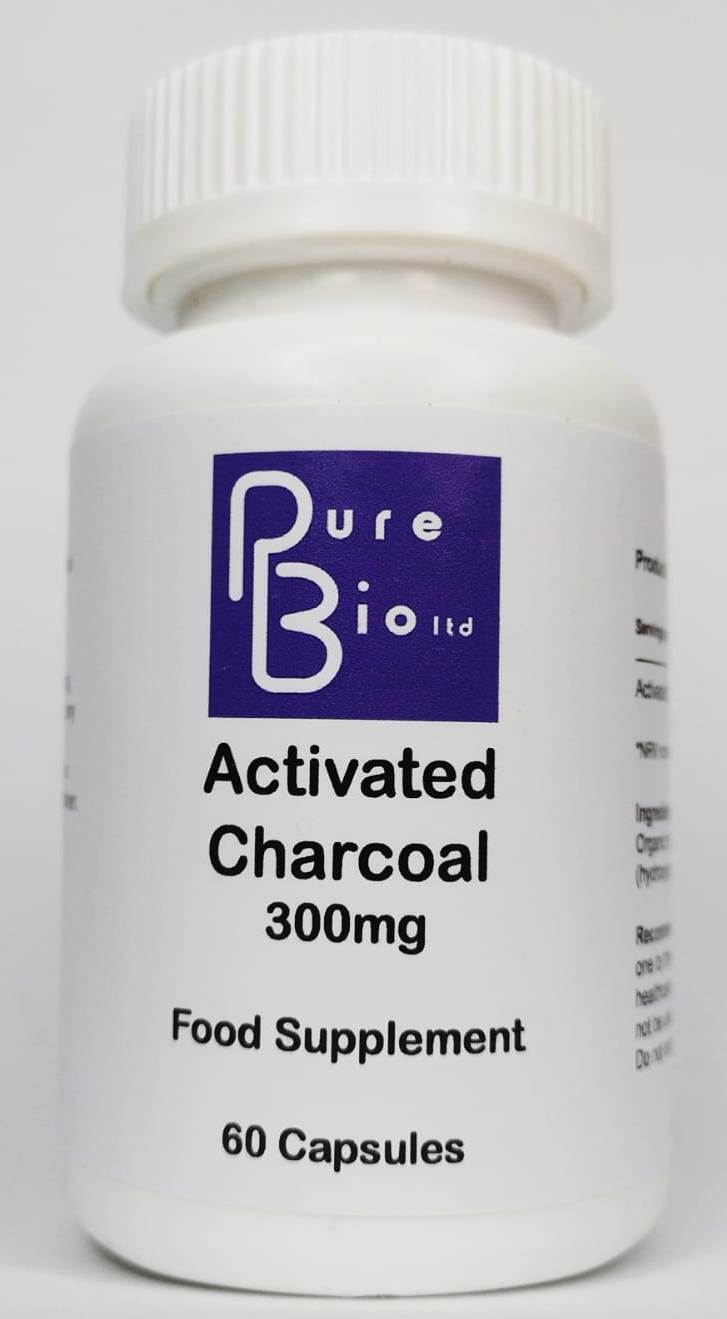 We are pleased to be supplying a high strength 300mg pure activated charcoal, 100% sourced from sustainable coconut shells and manufactured in the UK to GMP standards.
Activated charcoal is a highly micro-porous natural adsorbent - a process in which atoms and molecules attach themselves onto a solid or liquid surface. In this way, charcoal traps unwanted toxins and chemicals in the body, preventing their absorption and helps to facilitate their removal.
For full details and to order click here
---
GIFT VOUCHERS AVAILABLE FROM PURE BIO:
Did you know that we sell Gift Vouchers, which can be used against the purchase of any of our products, from supplements to soap to socks?!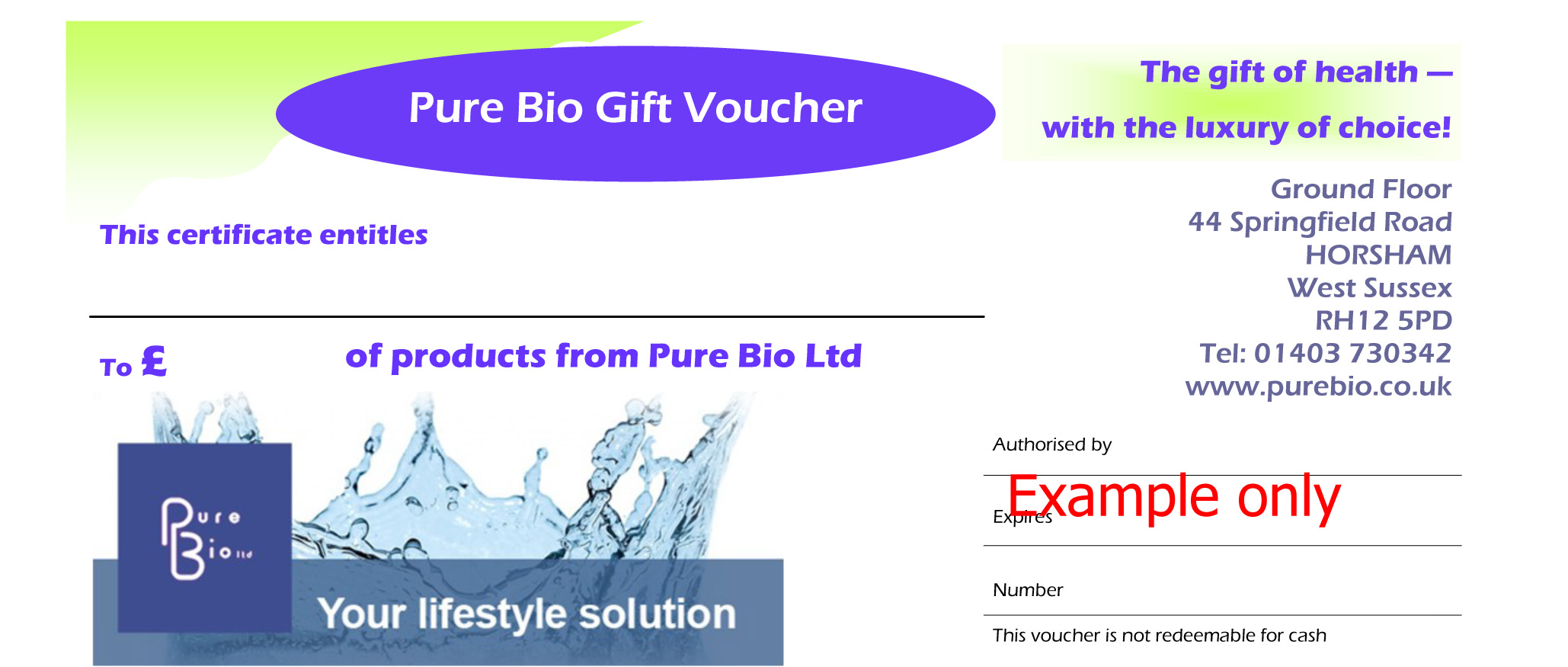 The vouchers can be purchased in denominations of £5, £10 and £20.
Why not give the gift of health, with the luxury of choice! Click here for full details.
---
__________________________________________________

We are authorised stockists of VIRIDIAN - a leading brand of ethical supplements. A comprehensive range of products can now be purchased online at any time, as well as being available in our shop during normal business hours.
Click HERE to browse the range!
LOOKING FOR A VIRIDIAN PRODUCT THAT YOU CAN'T FIND ON OUR WEBSITE?
Whilst we do not stock the full range of products from Viridian, we are happy to order in non-stock items for our customers.
So if you can't find what you're looking for - please call or email us and we will be happy to help!
---
Discontinued Products
The following products are now out of stock and will no longer be available to purchase from Pure Bio: